Design and Engineering Services
Base Industries is capable of providing design and engineering services throughout Australia to meet varying access and support needs. With experience in Australian markets and an intimate understanding of the latest procedures and methods, we ensure all client requirements are met while maintaining regulatory and legislative standards.
With an in-house professional team, we're able to advise clients on all design and compliance requirements for formwork and scaffolding. Our team possess an extensive knowledge of the industry and all relevant regulatory requirements, including Australian Standards and codes of practice. Working closely with our clients, we can tailor different design solutions to ensure a cost-effective and practical solution.
Thanks to our innovative and practical design approach, Base Industries is able to solve some of the most difficult problems when it comes to height access and structural steel. We also provide clients with real-time 3D modelling to show a finished solution that meets and exceeds all regulatory standards.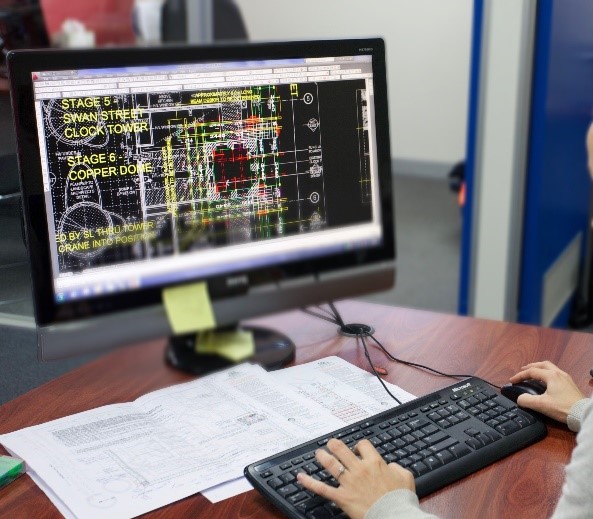 Structural steel work design and engineering

Maintenance access design and engineering

Height safety design and engineering
In addition to providing practical, economical, innovative and safe design engineering solutions to our clients, we also offer on-site technical support.
Dedicated to Reliability and Safety
Base Industries consists of highly qualified design and engineering technical experts who possess an intimate understanding of the latest procedures and methods relating to design, engineering and fabrication. We strive to maintain the highest standards of workmanship and attention to detail, ensuring reliable delivery of projects on time and within budget. We're capable of designing and developing solutions that meet client requirements, using CAD and CAM software for a durable, safe and cost-effective outcome.
We can assist with 3D or 2D detailed design layouts, as well as engineering certifications and build scope plans. With these plans, we place a priority on safety and efficiency to ensure all project milestones are achieved safely and on time. We also work to understand our clients' access programs and recognise any potential issues prior to project commencement, providing confidence to our clients.
To discuss your requirements, please contact us today.
Our engineering team designed this platform for high altitude elevated work platform to allow resurfacing and painting works to steel structure of the Westgate Bridge.